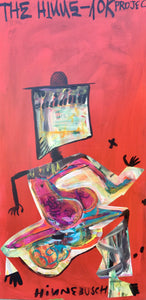 David Hinnebusch Artworks
On The Run 48x24" mixed media on wood panel
Regular price
$1,000.00
$0.00
This piece was finished in August of 2021 in Los Angeles, California, United States. The paper collage was started in 2014 in Montréal, Québec, Canada. (See https://youtu.be/Y5qPEOEbZ2M for the 90 minute time-lapse film showing their beginning.)
Paint marker and acrylic on Paper collage on wood panel.
Until sold, this artwork is a work in progress. A list of the first of 100 collectors who have spent over $10,000 on original paintings, NFTs, prints, ephemera directly from me will be listed on the artwork in permanent acrylic paint marker.
If you intend to purchase this artwork, contact me to confirm that this is the current state-of-the-art of the work.
See the Hinne10 Club for David Hinnebusch artwork collectors who own more than 10  works.
Thank you,
David Hinnebusch 
---
More from this collection